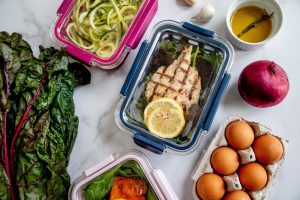 Wouldn't it be nice to have a healthy supper ready in minutes, with the only thing you have to do is heat and serve? You can get that and more when you meal prep and do extra freezer meals for later. Some food isn't as appealing once it's frozen, such as fresh vegetables used as a salad ingredient, like lettuce or cucumbers. Other food that aren't the same after freezing include mayonnaise, soups or sauces that are cream based, cooked pasta, fried foods and most gravies.
A favorite of mine are stuffed peppers.
There are so many ways to make stuffed peppers and all of them are delicious when heated after you freeze them. You can make the filling using quinoa or rice, adding black beans, ground beef, chicken or even refried beans. The sauce can be as simple as a couple of cans of stewed, spicy or plain tomatoes or as complex as you want to make it. If you buy peppers in season to stuff, it's a budget friendly dish that can be a whole meal when partnered with a side salad.
Pack the fixings for a great soup or leftover meal(s).
Did you serve roasted chicken? Pack up what's left over for ingredients for your next meal. Debone the chicken and save the bones for broth. Chop the pieces of chicken so it's ready for chicken salad. Just thaw and add onions, celery and dressing and it's ready. You could save even more time if you chopped onions ahead and packaged them or have celery cleaned and ready to use as a snack. When you boil chicken, save the stock for soups with a few bits of chicken still in it. Freeze leftover vegetables, even small amounts. Toss the stock and the leftover veggies together in a slow cooker in the morning for a delicious soup that only takes a few minutes of actual preparation.
Make it fresh but make it easy.
You can assemble all the ingredients, freeze them and the day before you'll be serving it, thaw the meal and use a slow cooker or insta pot the next day. Salsa verde chicken is an assembled and freeze ahead style meal. It requires a pound of chicken breasts, a cup or can of chicken broth, a whole 16 oz can of green salsa, 2 minced garlic cloves, a diced large onion, 4oz of green chilies and cumin. When you're ready to cook, spray the slow cooker with non-stick oil, add the bag of thawed ingredients and cook. Use high for three hours or low for five or six. Salt and pepper to taste. You can use it for several meals if you make enough. Shred it to top a salad, rice or a burrito.
You can make sweet potato black bean chili and freeze it for up to three months. It uses sweet potatoes, black beans, lime juice, a can of diced tomatoes, onions, chili powder, garlic, cumin ground chipotle chili and salt.
If you're using our menu planner, you can double most of the recipes and freeze part for later. If you're making a creamed or milk based dish, hold the milk for the frozen version and add later.
Put the name of what's frozen on the container and the date you froze it. Brown or cook all meats when you buy them and pack them in small freezer bags in smaller portions to use later.
We have a wealth of recipes you can make and freeze ahead for later in our DIMEnutrition meal planner option. The meals are custom-made for you and address your specific needs.
For more information, contact us today at Wellness On A Dime Coaching