Well on 10 "pro"
(nutrition and fitness)
The professional edition of Wellness On A Dime is an all-in-one solution allowing not only the ability to provide nutritional guidance to your customers, but also a recommended video exercise routine all within one easy to use application.
It is designed specifically for professionals, businesses and individuals wanting to provide nutritional advice or dietary plans to clients and/or employees, but do not employ or have access to a licensed or qualified nutritionist.
What are the MAJOR benefits?
Better manage clients' nutrition and fitness needs
Reduce healthcare costs for employers and employees
Create a passive income stream (part-time or full-time)
Who is this for?
Medical Professionals
Clinics and Spas
Health and Wellness Coaches
Fitness Experts
Employers / Business Owners
Individuals / Sole Proprietors
Organizations and Groups
Agents and Brokers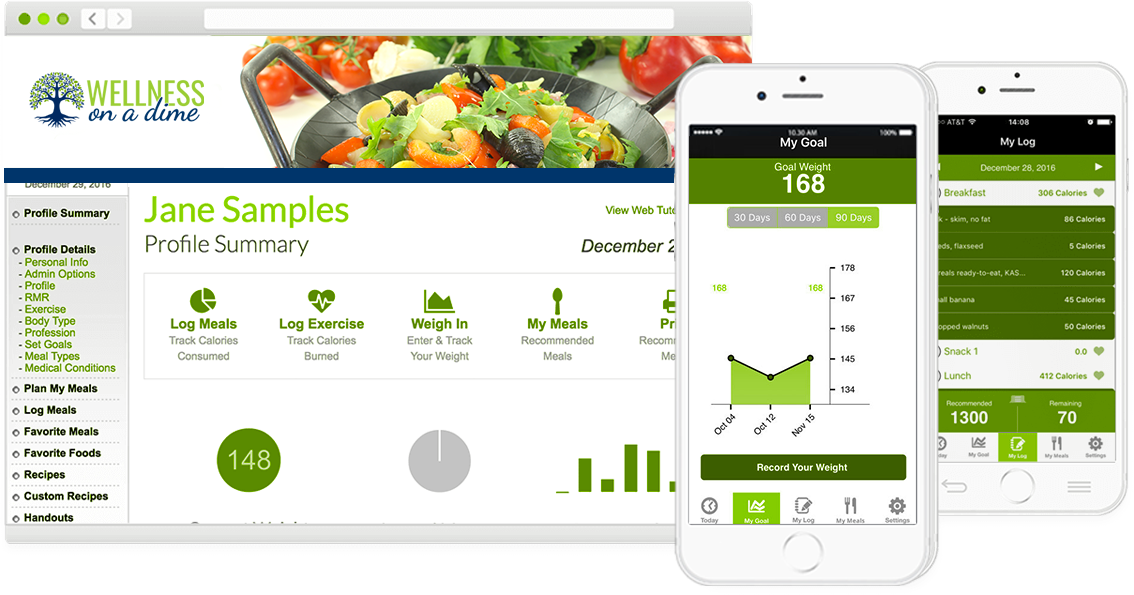 Turnkey Solution: Includes everything you need to get started.
Web-Based Portal: Customizable to fit your Brand
Mobile: Ready to go mobile app that syncs with FitBit, Apple Watch, Garmin and others
Reporting: Powerful reporting tools
Features included are:
Professional Meal Planning Templates In Minutes
Easy To Substitute Foods Based On Availability Or Preference
Grocery Store List Generator And Barcode Scanner
Video Exercise Planner with powerful features to support fitness goals at any fitness level
100's of video exercise templates.
Ability to add your own exercise or non-exercise videos (such as instructional videos)
Easy-to-use, No Learning Curve
In-app Communication With Clients
Meal Plans For Common Diet & Health Conditions
Goal Tracking Dashboards
Timer feature for tracking interval training and logging completed exercises.
Calendar feature to plan clients' workouts and add helpful notes.
Customizable so you can adjust to fit your clients' unique needs.
And, many more!
Starting at only $40.95/mo for 10 users!
Wholesale tiered pricing
$99.00 CAD Activation fee plus first month billed in advance to get started. Then the following levels will apply: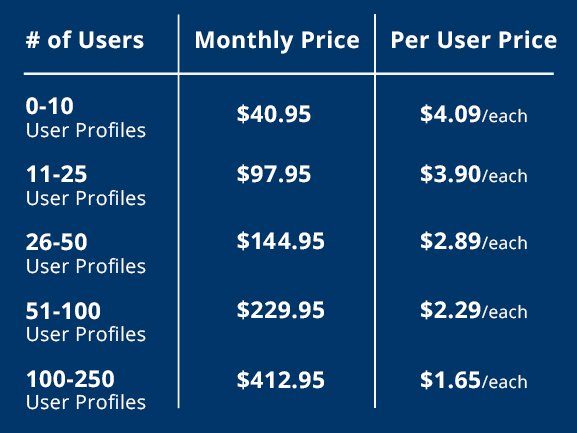 Important Notes:
You will start out with the basic up-to 10 profile plan. For example, for WELL ON 10 PRO, your initial sign up includes a one-time $99 activation fee plus your first month of minimum profile billing of $40.95 (total sign-up fee $139.95).
As you add more profiles, your monthly payment may increase automatically based on the number of profiles you have added to your account.
 Example: Once your account reaches 11 or more profiles, but not exceeding 25, your next monthly billing will be $97.95 for WELL ON 10 PRO.
You may also delete profiles at any time once they reach more than 30 days old. 
Your monthly billing may decrease automatically if your number of profiles is less than the previous months billing using the price levels described herein. Contact us for profile costs of 250+.
Please note that telehealth services are not included with WELL ON 10 PRO. If you are interested in group enrollment of these services, please complete the form located on the contact page or email us at info@wellnessonadimecoaching.com.