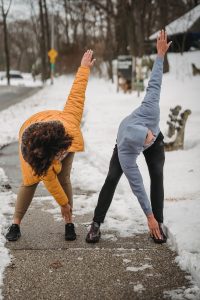 It's hard to get everything done throughout the day and still have time for yourself and your loved ones. Whether you live in Louisiana or any other state, you're probably rationing time between work, family and your own personal care. One way some people have solved the problem is to exercise as a couple or as a family. It actually can be a lot of fun. It can help create memories that will last a lifetime, while providing quality time and good habits for everyone.
Exercise doesn't have to be aerobics, weightlifting, yoga or calisthenics.
Whether you're with your partner or the whole family, a walk through the neighborhood or at the zoo, a nature reserve or park can provide both exercise and a time to bond. Family biking, hiking and even shooting hoops or playing ball can provide the family with the exercise they need, while making it fun. You don't have to buy expensive equipment, either. Jump ropes and hula hoops can be quite inexpensive.
Build your own exercise program and get nutritional coaching, too.
We provide videos that can help you and your partner with exercise programs that are made for you. For less than a dime a day, you also get free meal plans with recipes and a grocery list. You can even spend more quality time and work together to create the meals on the weekend, so during the busy work week, all you have to do is heat and serve. You'll keep each other on course and hold each other accountable at the same time.
It takes a real commitment.
If you're working out as a couple, both parties have to be dedicated to the cause. Start by scheduling your workout throughout the week. Keep it at the same time every day. It takes real honesty and maybe even a penalty for not following through, like the partner that fails has to do a specific chore for the month. The chore should be something physical that lasts as long as your workout, so they can do it while the person who kept the commitment is exercising.
Your plan should include strength training, endurance training, flexibility and balance training. All of these are important. Don't forget to warm up and cool down after the workout ends.
When you're planning your workout, start by committing for a month or two of exercise and reevaluate when it ends. Making it a shorter term goal doesn't make it look so overwhelming and is easier to maintain.
You don't need weights for strength-building. You can use resistance bands or bodyweight workouts to achieve the same results. You can also modify some exercises to make them couple friendly, like doing squats in a back-to-back position with arms linked together.
Working out together improves not only the emotional bonding, but also boosts both parties sex drive, according to studies. You'll look better, feel better and have more endurance during sex and get even more exercise in the process.
For more information, contact us today at Wellness On A Dime Coaching