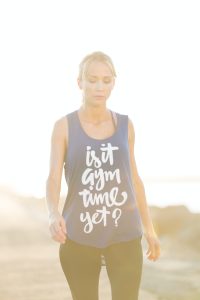 Fitness requires more than one day's attention or even working at it for a week or two. It requires a consistent effort. That's one of the reasons people aren't fit. They lose interest, hate working out, or don't like to exert all that effort. It's mostly about their mindset. You can go from unfit to gym lover but the first thing you have to do is identify why you don't workout. If you have time for fun activities, it's not because you lack time. Once you know, make that information work for you.
Do you think it's just too boring to spend time working out?
If you're bored when you go to the gym, you haven't tried anything new in years, or need to make changes to make the effort less repetitive. Challenge yourself to try a new exercise every other week and add some fun your results by burning more calories. The body becomes efficient when you consistently do the same moves, so it burns fewer calories.
Get a new piece of equipment or try a new type of exercise.
Have you ever used kettlebells? They're fun to include in your exercise program. You'll get a full-body workout, and the provide exercise for all types of fitness. Kettlebell workouts improve endurance, strength, flexibility, and balance. Using kettlebells make it feel like your workout is quicker because it's fun. In reality, it is quicker. Since it works all parts of the body, you get more accomplished in a shorter time. Do yoga or Thai chi once a week for variety.
A great workout doesn't have to be in the gym.
If the gym atmosphere is the reason you hate to go, switch gyms, or workout at home. If you crave something different. Try bike riding a few days a week instead of spending all your time in the gym. Add a dance class or go out on the town and dance the night away. Just make sure your partner is ready to work out on the dance floor. You can make the gym more fun if you bring a friend and workout together.
Try HIIT—high intensity interval training. You alternate any exercise between high intensity and recovery to maximize the benefits.
Use your muscles for good. Appreciate what you've accomplished and show off your new muscular body. Buy clothing that accents the new you. Appreciating your efforts includes showing off a bit.
Don't go it alone. Get into group classes or go to a boot camp. Boot camps often focus on getting fit faster over a short period. You'll make many new friends with the same goal of getting fit.
Track your progress in the gym and make it a game. Constantly challenge yourself to do better. Decide on an ultimate goal for every exercise, whether it's the number of reps or the amount of weight. Keep up the challenge and when you reach it, reward yourself.
For more information, contact us today at Wellness On A Dime Coaching